Whatsup Little Bubs?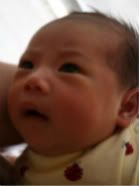 About Me
Name: Kait and Kei
Location: Singapore
Kait - Che Che extraordinaire, obsessive playdoh-er, loves dogs, loves a wooden picnic, adorable milk monster, smarty pants genius, always game for a good laugh. Kei - Mei mei to the Bubster, sweet, compulsive milk monster, progressive cry-er, inquisitive onlooker, all round sweetie pie.
Feeling
...like Pure Sunshine
What's new?
The 10,000 Hits Contest!

Be the 10,000th visitor to this blog and win a K1 original artwork! All you need is a screen print of the blog with the hit counter showing 10,000 and contact the mummy immediately. Only one winner for this contest, so keep an eye on that hit counter!.

Say Hello!

Bub's Pink Polka Dot Party

Other Bubs & Kids

The Ks See, the Ks Like!






Another way cool play tent! We like the cool patterns, none of that plasticky cheapo looking ones please!



Nice colourful plates for a great meal!

The Kait & Kei Poll

Bub's History
Tuesday, November 10, 2009