A Hidden Treasure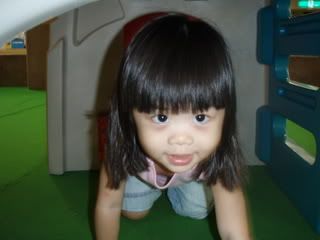 We stumbled upon this little indoor playground at a supermarket near our hotel. It was not much, just a Little Tike's climb up and slide. But having been cooped up on a bus the whole day, this was an oasis for the Bubster.
To add to this joy, we found Macadies nearby. I've never been so happy to see the golden arches, for us it was knowing that Bub would have some good solid carbo intake after 3 days! Traveling with the mini is great, only downside is that she won't eat much, a couple spoonfuls of rice if you are lucky. So, golden arches = french fries = Bub's favorite = relieved parents!
Ah, now you see the perils of traveling with a mini!